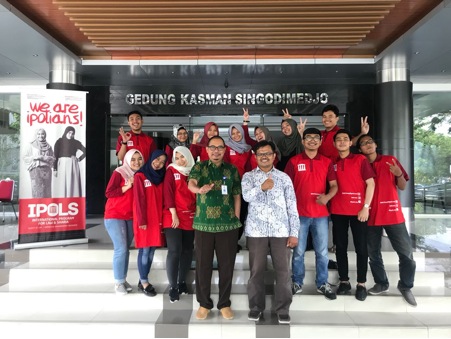 International Program for Law and Sharia (IPOLS) of Faculty of Law of Universitas Muhammadiyah Yogyakarta (UMY) created a team acting as ambassadors on Thursday (28/12) at UMY. The establishment of the team comprising of law students from various areas of Indonesia aims to promote the significance of education to local community and introduce UMY to high school students.
Head of Student Admissions Affairs of UMY Marwadi Ahmad A.Md. Kom. declared that the ambassadors should be able to be a role model for community and high school students. "UMY is a higher education institution which is responsible for educating this nation. UMY is now focusing on being a reputable international university which will be a main mean to promote UMY. Indeed, these ambassadors should be able to present UMY in detail, particularly to tell UMY achievements and successful alumni," emphasized Mawardi.
He inserted that each IPOLS ambassador is required to understand profiles of UMY so that prospective students will obtain obvious information about UMY. "The students as representatives in Kalimantan, Sulawesi, Papua, Sumatera, Java, and other island should be able to maintain the reputation of UMY since people will see UMY based on their presentation so that they have to know all information of UMY, especially dealing with programs provided at UMY," told Mawardi.
He also informed that the promotion is also addressed to find excellent students across Indonesia gaining a lot of achievements. "Many high school students possess potential, and they will be trained for two semesters when being students of UMY so that they can join exchange programs. These students, later, will support UMY to be a reputable international university. Moreover, the establishment of the ambassador team will encourage pupils to apply at UMY and UMY can educate them to be better generations," he maintained.