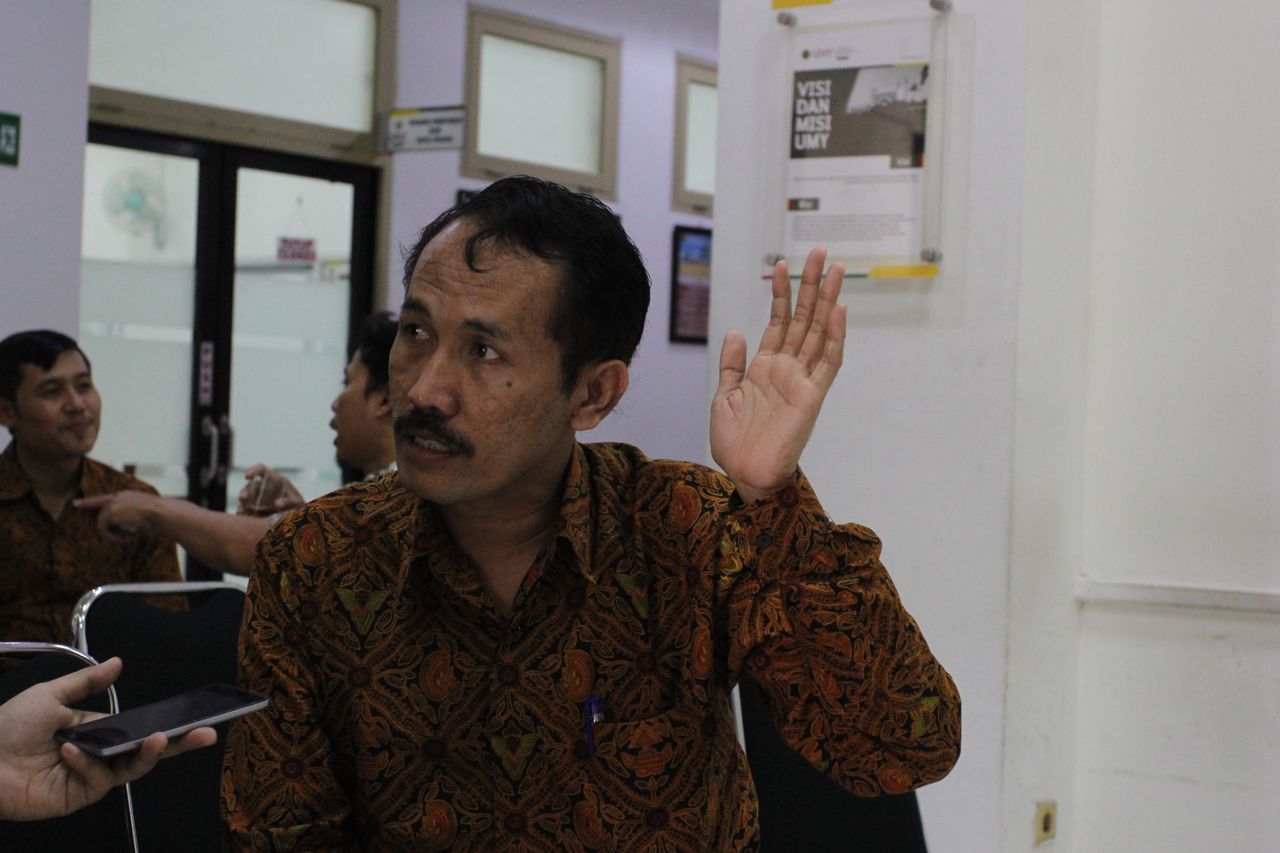 3 Vocational Programs of Universitas Muhammadiyah Yogyakarta (UMY) has successfully pursued 'B' accreditation from BAN-PT (National Accreditation Agency for Higher Education). The acquisition of accreditation was announced by the Director of Vocational Program, Dr. Bambang Jatmiko, S.E., M.Si, in Tasyakuran event on Thursday (8/2) in the lobby of Mas Mansyur Building UMY. The three vocational programs are Applied Accounting, Electromedical Engineering, and Mechanical Engineering.
Bambang said that the accreditation achieved is considered as a good achievement for Vocational Program. "Actually Vocational Program started to join UMY in August 2016. Previously it was called as Polytechnic of Muhammadiyah Yogyakarta. Furthermore, by having big support from some heads of UMY, the Vocational Program prepared for approximately one year, and the result is satisfactory since each program succeeded in obtaining accreditation B based on 2 visits and 1 assessment using SAPTO (Accreditation System of Higher Education Online)
The accreditation pursued according to Bambang cannot be separated from the curriculum model owned by Vocational Program of UMY. "The curriculum that we apply to the program focuses on Link & Match, which is to bring the industry closer to the students and make it an educational barometer so that students have more knowledge. Thus, Students will have 5 semesters in class and 1 full semester will have an internship in industrial environment, "told Bambang
"Hopefully the students will have competent skills related to industry standards. For example, engineering students can have an internship in industries have corporation with UMY like Dynaplast. For Electromedics Engineering students, they can have an intenrship throughout the network of PKU Muhammadiyah Hospital or other hospitals in Yogyakarta and Central Java, "said Bambang.
"In addition, when students complete this program, they will also obtain certification of expertise from related Professional Organizations. For example, Electromedical Engineering students will get certification from APTEMI (Association of Elektromedical Higher Education Indonesia). Therefore, when students complete the program, they will have certified expertise, industry experience and also a diploma, he concluded.