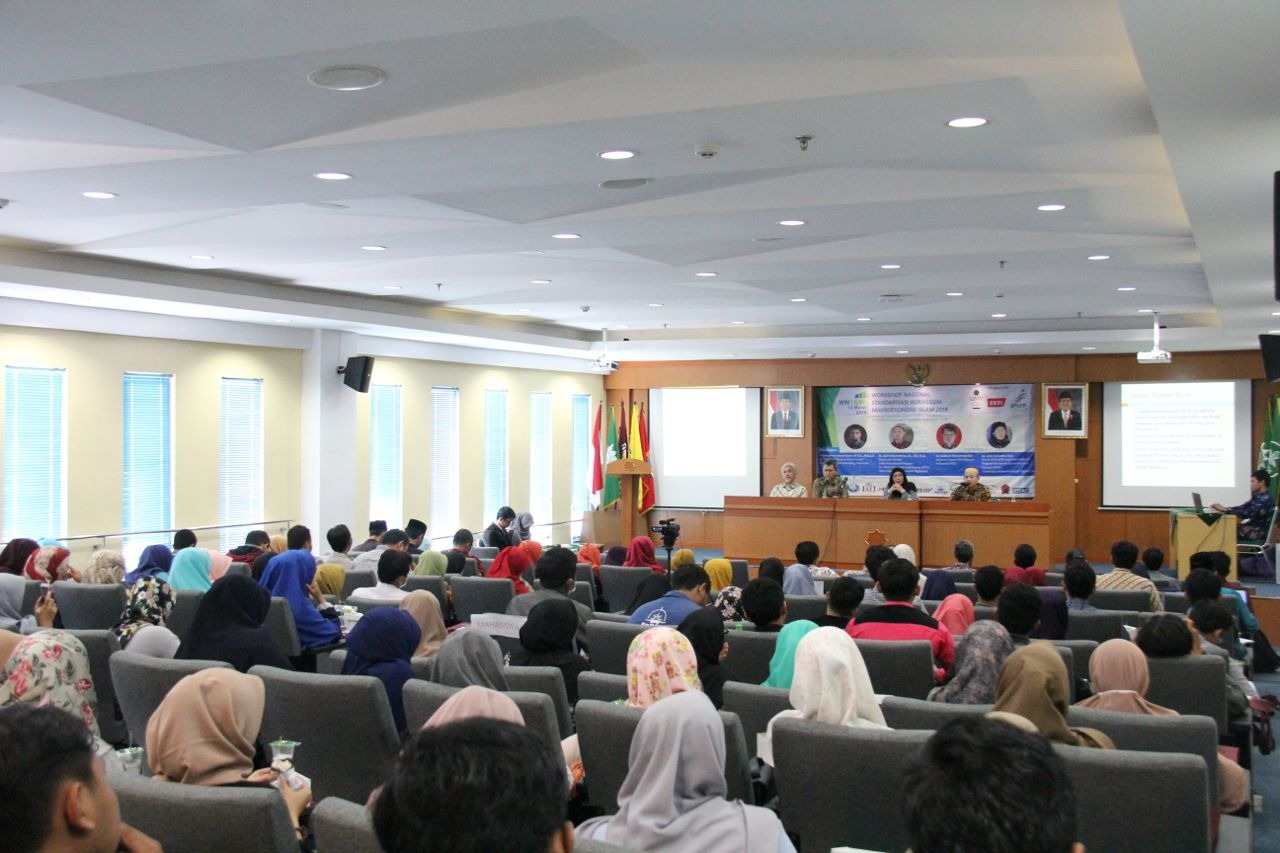 International Program for Islamic Economics and Finance (IPIEF) of Faculty of Economics and Business of Universitas Muhammadiyah Yogyakarta (UMY) organized a national workshop on 'Standardization of Islamic Macroeconomic Curriculum 2018' on Tuesday (13/03) at Building of Graduate School of UMY. The workshop aimed to enhance understanding of how the economic system is in line with Islamic teaching.
The author of 'Ekonomi Makro Islam' (Macro Economy of Islam) Ir. Adiwarman Azwar Karim, MBA., MAEP stated that theories and practices of economy should be delivered rationally. "The fact shows that many academicians or lecturers do not talk about Islamic economy rationally since they always adopt Western terms instead of terms on Al-Qur'an. Thus, curriculum standardization to create students mastering Islamic economy theories, practices, and terms. The mastery is necessary in order that we can explain all of them well and in detail. If we learn economy, we have to follow all the processes and have good team work. Indeed, government should support sharia economy since government is the center of all markets, investors, and buyers," declared Adiwarman.
Meanwhile, Secretary of Indonesia Economist Association (IAEI) Dr. Roikhan Mochamad Aziz discussed the development of sharia economy in Indonesia. More than 200 university commissariat and 200 higher education institutions in Indonesia provide Program of sharia economy. "Besides macro economy, Islamic economy standardization such as sharia banking should be developed. Economic and Islamic ideas and sciences such as integration of classical thoughts, naturalization with spider webs and implementation of tauhid theories (Circular Causation Methods), worship theories and Islamic city index, and Islamic economic philosophy should balance. If we look at research on Islamic macro, it involves inflation, zakat, economic growth, systems, structures, commitments, regulations, sharia principles, and prosperity," emphasized Roikhan.
In addition, a lecturer of IPIEF Dr. Ayif Fathurrahman, S.E., S.EI, M.Si. told that Islamic micro economy only focuses on behaviors. "Hence, aqidah and akhlak guidance is necessary. Islamic economy as the real Islamic economics can become an executor and decision makers for the good of people. Without macro terms, Islamic economy has directed to social welfare," he said.