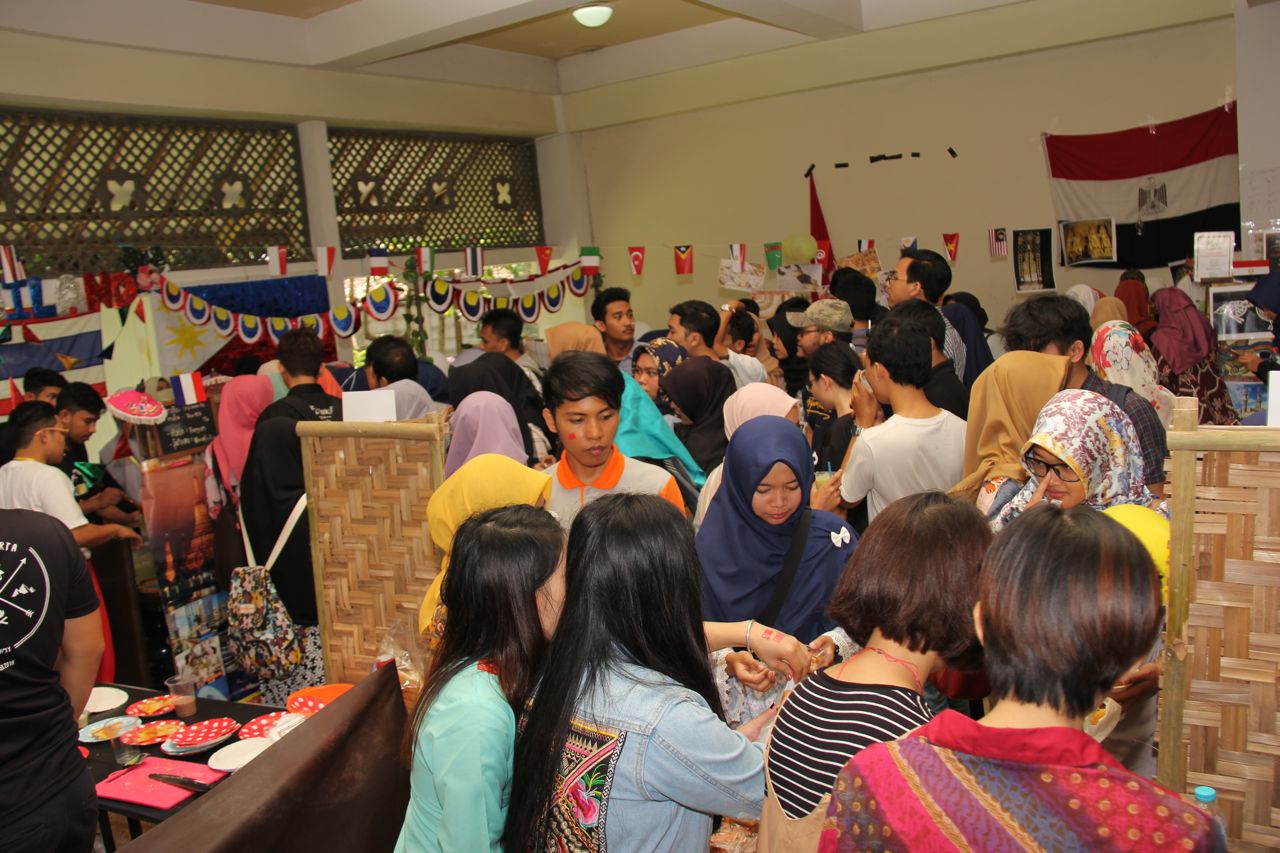 Possessing a tagline of 'Muda Mendunia' drives Universitas Muhammadiyah Yogyakarta (UMY) to boost its internationalization programs which are expected to create international academic environment at the university. One of the programs was International Cultural and Culinary Festival (ICCF) 2018 conducted by International Relations Office of UMY.
In the opening of the ICCF 2018 on Tuesday (20/3) on the ground floor of Masjid K.H. Ahmad Dhalan of UMY, Vice Rector for Student, Alumni, Islamic and Muhammadiyah Movement Affairs of UMY Hilman Latief, Ph.D. stated that the ICCF was to promote various cultures, foods, dances, and songs from a number of countries to the visitors. "Knowing other cultures enables us to have a cultural dialogue, share knowledge, and enhance our intercultural competences. Thus, we may be able to collaborate one another," declared Hilman.
He also appreciated all committee for successfully organizing the ICCF 2018, and expected that there would be more foreigners participating in the next festival. "Therefore, the number of Indonesian and international students is equal," said Hilman.
Meanwhile, Director of International Affairs of UMY Yordan Gunawan, S.H., Int.MBA, M.H. explained that the ICCF is an annual event aiming to provide an occasion for international students in Yogyakarta to introduce their culture to Indonesian students, and vice versa. It was also addressed to broaden network between Indonesian and international students.
"The ICCF was previously named the International Cultural Festival (ICF). Organized since 2015, the event was supported by various parties such as foreign embassies in Indonesia, foreign universities, and international institutions. Indeed, it has appealed a lot of participants form Indonesia and overseas," told Yordan.
Dealing with the theme of ICCF 2018, 'Beauty in Diversity', Yordan believed that diversity denotes a beauty which should be maintained well. The diversity may not separate us. "As individuals, we must have shortages, and the diversity should complement one another," expressed Yordan.
In fact, the ICCF also acquainted culinary food which is often used as a diplomatic instrument. The food diplomacy is the easiest. One of the countries utilizing the diplomacy is Korea.
In addition, one of the students joining the ICCF was Julius Dos Santos from Timor Leste that is a student of Department of International Relations of UMY. He was proud of being a participant of the ICCF. "We, representing Timor Leste, are presenting Kaldeirada and Beefi (food from Timor Leste) and performing Dansa Balsa Manatuto dance," he mentioned.
Serving 'Kitchen Street' from various countries, namely the United States, Thailand, Malaysia, Philippines, Timor Leste, Turkey, Italy, Yemen, Turkmenistan, Taiwan, Singapore, Egypt, China, Tunisia, Iran, and Indonesia, visitors could taste all food for free. They only had to change coupons provided by the committee. The food booths were decorated as characteristics of each country.
Besides, UMY also held 'Cultural Week' that international students from foreign partner universities could enjoy Indonesian art performances for a week started from Monday 19 March 2018. The students also visited several tourism places in Yogyakarta and Central Java.