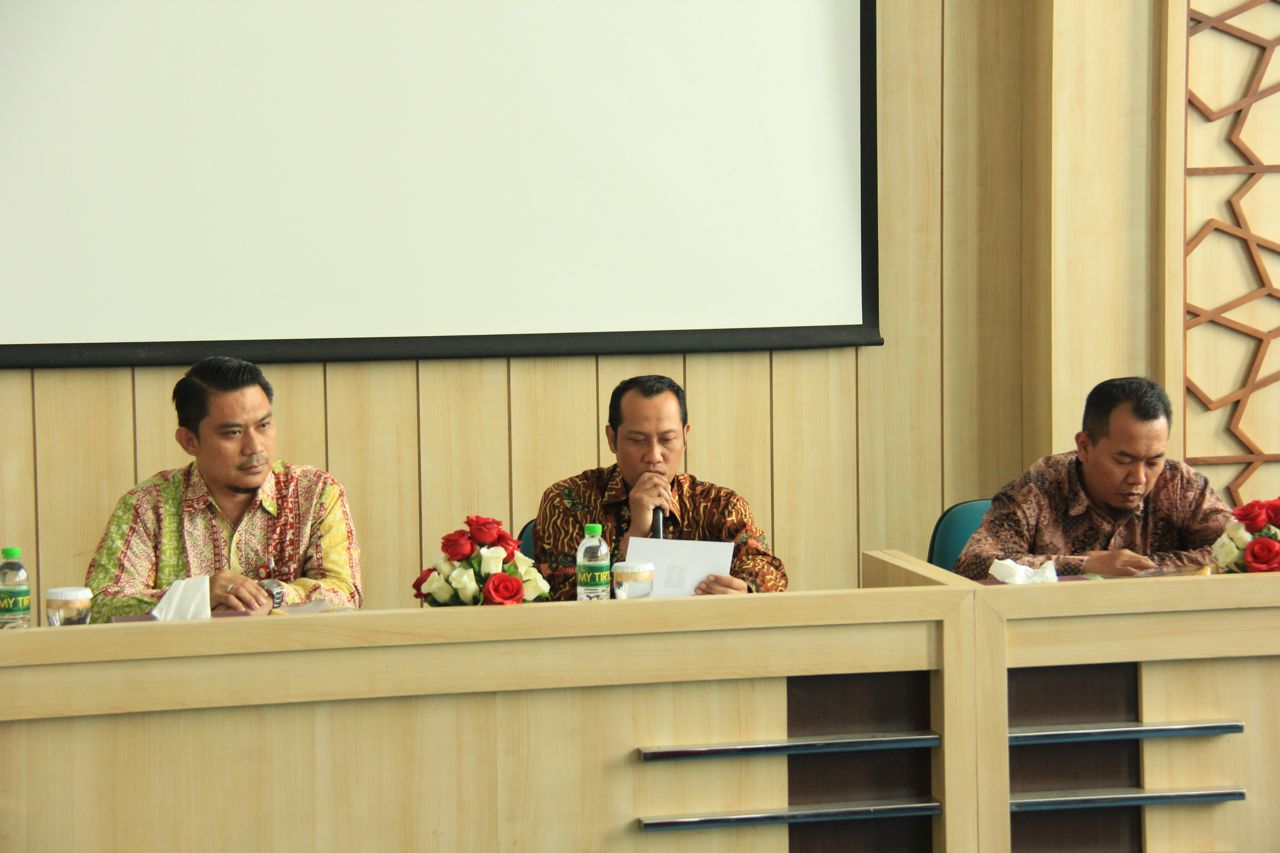 Program of Accounting (D3) of Universitas Muhammadiyah Yogyakarta (UMY) organized a seminar on Sharia Capital Markets with the theme of concepts, prospects, and challenges in the future. Conducted on Tuesday (15/5) at Amphitheater of Building of K.H. Ibrahim, the seminar speakers were Head of Sub Division of Capital Market Supervision for the Financial Service Authority (OJK) of Daerah Istimewa Yogyakarta Fathy Parlaungan Harahap and Branch Manager of FACS (First Asia Capital Securities) DIY-Jawa Tengah Heri Gunawan Muhammad, S.IP., CES.
In his remark, the program head Dr. Bambang Jatmiko, S.E., M.Si stated that the seminar benefited students to confront Industrial Revolution 4.0. "This revolution influences many fields including financial areas which has been digitized. One of the revolution impacts is the existence of sharia financial technology. Thus, we organize this seminar to give students knowledge to comply with industrial needs," declared Bambang.
Moreover, one of the speakers Fathy Parlaungan Harahap revealed that today's trend is dealing with sharia capital markets. "The sharia capital markets are capital markets whose instruments are based on sharia principles and mechanism. Stock exchanges at the sharia capital markets should be in accordance with criteria established by Indonesian Ulema Council (MUI) on DSN-MUI no. 40/DSN-MUI/X/2003. For instance, the stock exchange trading may not contain riba, gambling, and other forbidden (haram) activities. Many youths have become investors or traders. Thus, functions of the OJK are to monitor and regulate activities of the trading as well as to protect consumers with prioritizing investors' interests. We also greatly disseminate information about the capital market in order that prospective investors are not defrauded," he maintained.
Fathy also gave prospective investors advice as investing properly. "We have to be aware of our investment purpose, to save or to be a trader. Afterwards, we have to know how long we will achieve our target. We should recognize risks of the investment and should not be easily deceived by high profits because the higher the profits, the greater the risks," emphasized Fathy.
Meanwhile, the other speakers Heri Gunawan Muhammad talked about how to choose investment companies. Prospective investors should notice profiles of target investment companies. "For example, we would like to purchase stocks from a company, we have to research the company profile as their focus area, whether it get involved in gambling or haram activities, the profits, and the total interest-based debt which is not more than 45% compared to the total number of assets," he mentioned.
Heri informed that in May 2018 there has been 336 sharia companies. "They are listed in the DES (Sharia Stock List) and has been guaranteed by the OJK that they are not involved in activities against Islamic trading principles," he ended.