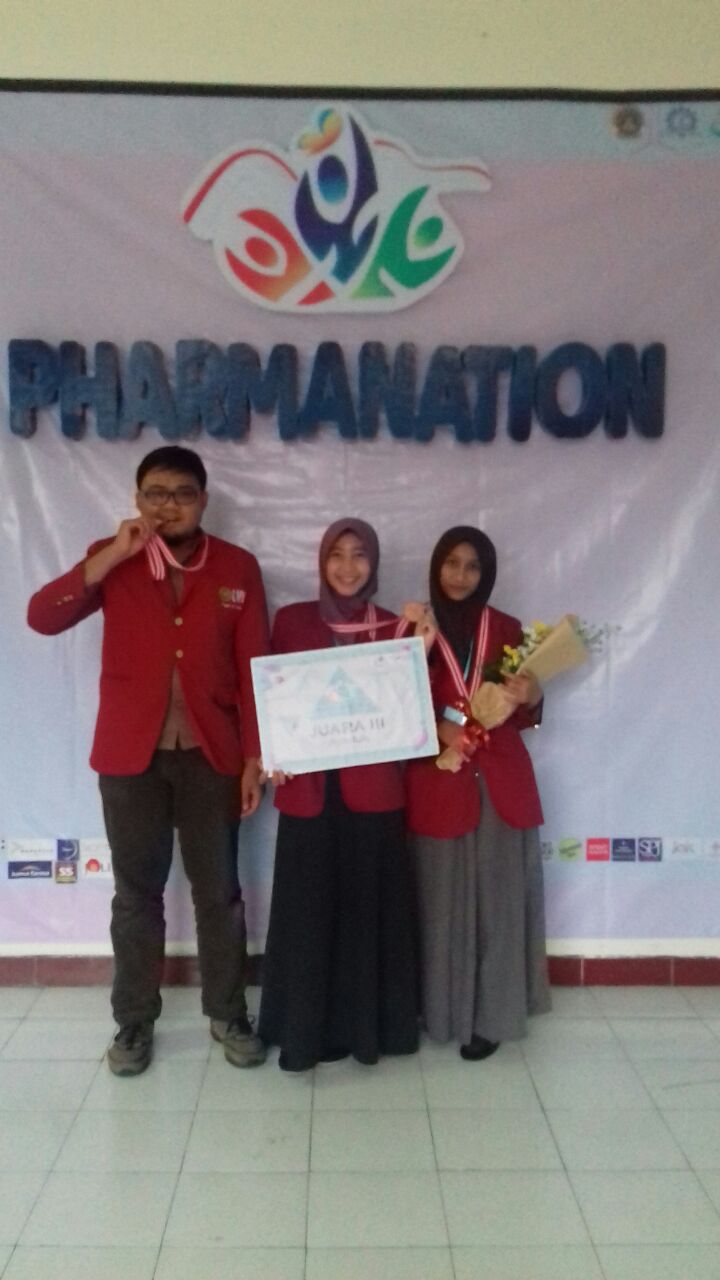 Students of Universitas Muhammadiyah Yogyakarta (UMY) became the second runner up at the Pharmanation 2017 organized by University of Ahmad Dahlan. The students were Irrene Wulan Syafitri, Marita Indah Heryanti, and Nanda Priatmoko. The winner and the runner up were University of Sanata Dharma and University of Gadjah Mada respectively.
In an interview on Thursday (30/11), Irrene Wulan Syafitri told that the national competition was conducted under the theme of 'Pharmacy Makes a Better Life for Indonesia,' and comprised of three rounds.
"First, the participants had a paper-based test (PBT) consisting of four topics, namely infections, physiotherapy pharmacotherapy, gastro-intestinal pharmacotherapy, pharmacotherapy about respiratory tract. Afterwards, top 5 teams went to a semifinal round which encompassed three competitions, namely is EBM, MESO (Monitoring Drug Side Effects), and OSCE (Objective Structural Clinical Event) in the form of post to post. Then, top 3 teams passed to a final round that we were assed individually," explained Irrene.
Meanwhile, Marita maintained that the competition would be a benchmark for Pharmacy students to be pharmacists. "The competitions was interesting because we could measure our capability. We did not waste the occasion," she declared.
The team prepared for the competition for only one day. "We only had one day to since we had an exam," said Irrene.
The team suggested pharmacy students to be more confident to join any competitions. "I recommend other students to create a club to prepare pharmacy students so that there will be regeneration for a team to join pharmacy competitions. I believe that a competition will not bother the grade point average (AVG). Indeed, joining competitions will widen networking and enhance experiences. We can think about the result later. The crux is that we have done our best for our university," asserted Nanda.