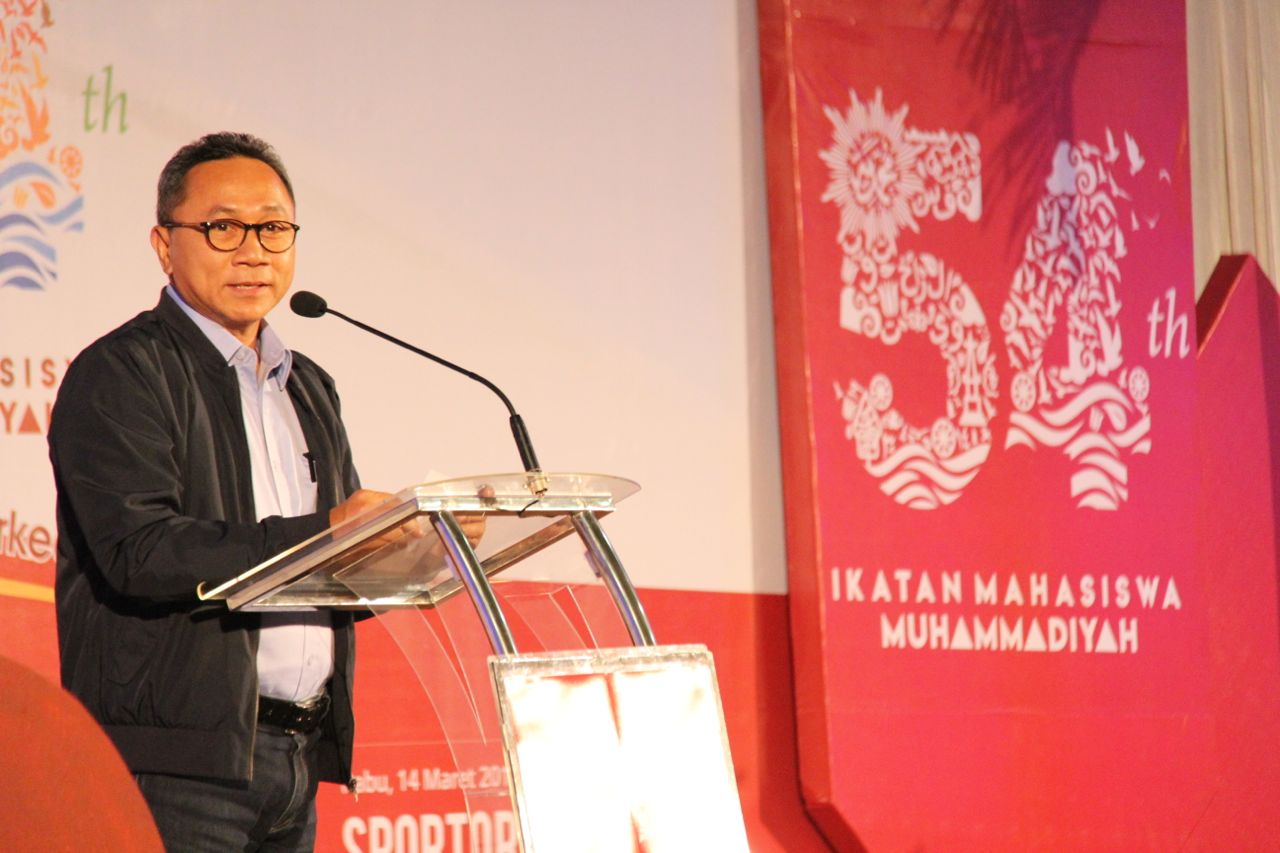 The Speaker of the People's Consultative Assembly (MPR) RI Zulkifli Hasan, SE, MM and Chairman of the House of Representatives (DPR) of the Republic of Indonesia Bambang Soesatyo advised Muhammadiyah Student Association (IMM) cadres. The advice was delivered on the 54th anniversary commemoration of the IMM on Wednesday (14/3) at Sportorium of Universitas Muhammadiyah Yogyakarta (UMY).
They wished that IMM cadres to be honest leaders who can mingle and lead young generation.
Zulkifli mentioned that, besides having a marvelous leader, there are three requirements to be a great nation, namely unity of the peoples, knowledge, and values.
"To bear the unity requires knowledge. Creating the unity foundation without knowledge may not be perfect. Both aspects determine attitudes of a great nation. The determnation will be developed if the people are knowledgeable," explained Zulkifli.
"Incredibly amazing events need sacrifices, so does success," inserted Zulkifli. He also talked about many leaders, particularly governors, were arrested by the Corruption Eradication Commission (KPK). This is bad because we do not know whether it shows a pride or setback. "Thus, be truthful leaders for the betterment of Indonesia," emphasized Zulkifli.
The Speaker of the House of Representatives Bambang Soesatyo stated that the IMM cadres should be the foremost leaders among young generation to create peace. He also informed that social and economic disparities have widely occurred in our society. "The IMM can encourage and assist government to create jobs, to supply cheap groceries, to provide decent houses, and to afford education and health access," he mentioned.
Meanwhile, Rector of the UMY (UMY), Dr. Ir Gunawan Budiyanto, M.P., who was also an IMM cadre, said that the IMM cadres are an asset of Muhammadiyah and many cadres have shown their potential. "A lot of IMM cadres have brought enormous contributions. We expected that IMM cadres will not be like the foam of the sea," he stressed.
Gunawan added that youth, especially IMM cadres, should be able to give reasonable critics and speak in international forums. "You may not criticize without any evidence and don not easily follow someone's commands just for getting food," he maintained.