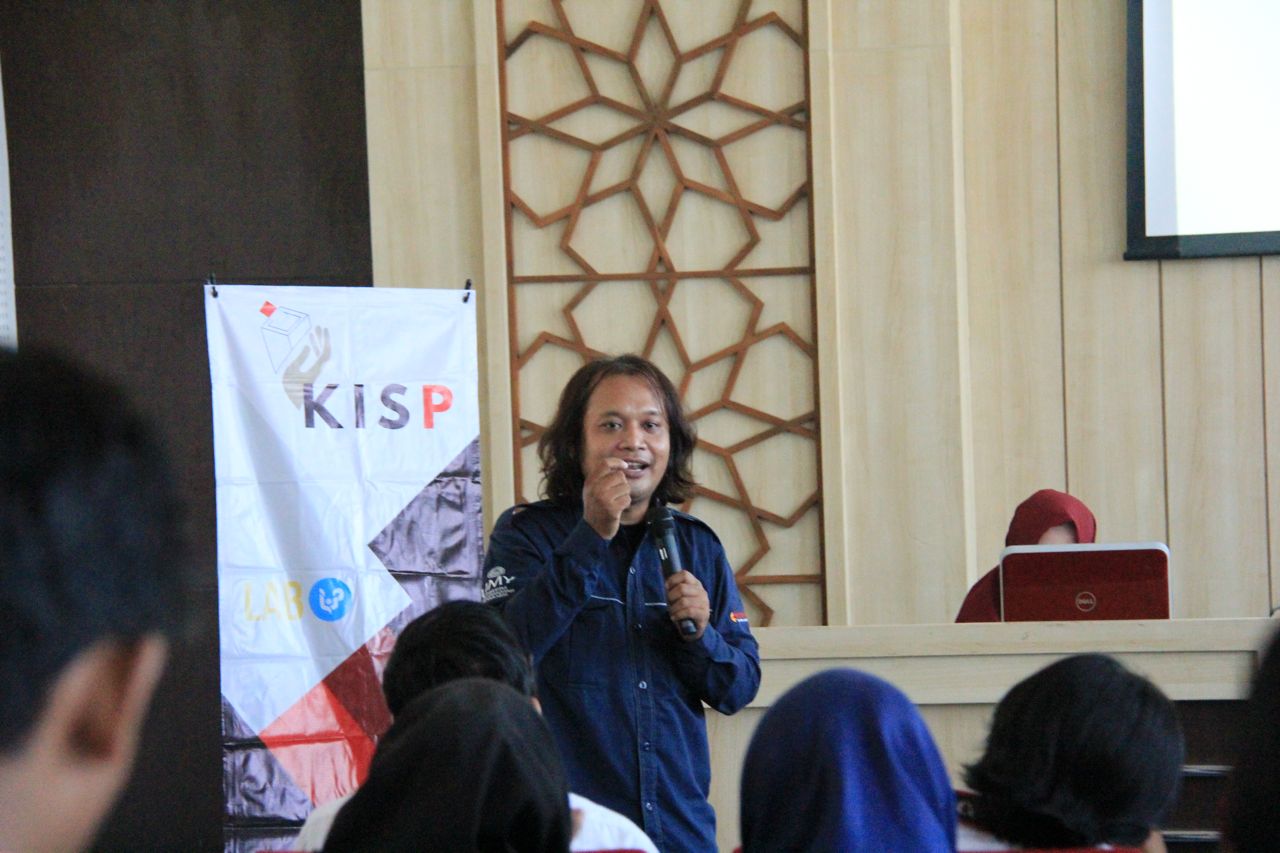 The great number of social media users in Indonesia affects politics, particularly campaigns and general elections. However, information on social media is not always positive and valuable. Indeed, the social media are often used to spread hoaxes and do black campaigns to interest of candidates. Issues of politics, general elections, and campaigns have recently been hot. As an impact of general elections 2019, the hoaxes can induce information chaos received by voters.
Hence, students of Public Relations of Universitas Muhammadiyah Yogyakarta (UMY) collaborating with Komunitas Independen Sadar Ilmu conducted 'Madrasah Pendidikan Pemilu Vol.2' under the theme of social media roles in general elections 2019. "Due to the huge number of social media users in Indonesia, the social media are an essential instrument in the general elections. Most of the users are youths so that their participation to be aware of politics is essential. This workshop aims to invite a millennial generation to be more literate in politics and media as well as wiser in filtering and selecting information about politics disseminated on social media," sated Ana Asfiah, a Public Relations students of UMY of batch 2015 who is also chief of the workshop committee at K.H. Ibrahim, floor 5 on Wednesday (30/5). The committee also invited a lecturer of Department of Communication Science of UMY Fajar Junaedi, S.IP., M.Si. and a commissionaire of Yogyakarta Election Supervisory Board (BAWASLU) Muh. Amir Nashiruddin, S.Hi.
"Alhamdulillah, the workshop participants are beyond our target. Since it is for public, the participants are from various universities such as UPY, AMIKOM, and other universities," told Luthfi Latidah Sholihah from the public relations division of the committee. She also believed that youths' involvement as voters in the general elections is crucial. "We have to promote the election from now so that the millennial generation's engagement in general elections is underlain by information which they receive wisely from social media," added Luthfi.
Meanwhile, Fajar Junaedi well-known as Mas Jun conveyed that Indonesia will become a developed country. In fact, a millennial generation is now living in a big data era so that they should become a leader in this social change, including a general election context. "A young generation will lead the social change since today is the big data era. Media literacy, particularly towards social media, is significant to verify news. Mentioned on Al-Hujurat verse 6, 'Oh you who believe, if there comes to you a disobedient one with information, investigate, lest you harm a people out of ignorance and become, over what you have done, regretful.' It means that we may not easily believe information. We may not get involved counterproductive issues," he emphasized.
Furthermore, Amir presented that social media or a cyber-world possess positive and negative impacts to that the media can be a boomerang for us if we do not confront the impacts wisely. "Media social is a positive prima donna in political campaigns because the media ease political actors to campaign either positively or negatively. Thus, BAWASLU is responsible for monitoring the cyber-world, particularly dealing with the general elections, and BAWASLU invites a young generation who is social media users to participate in monitoring the general elections 2019," he declared.