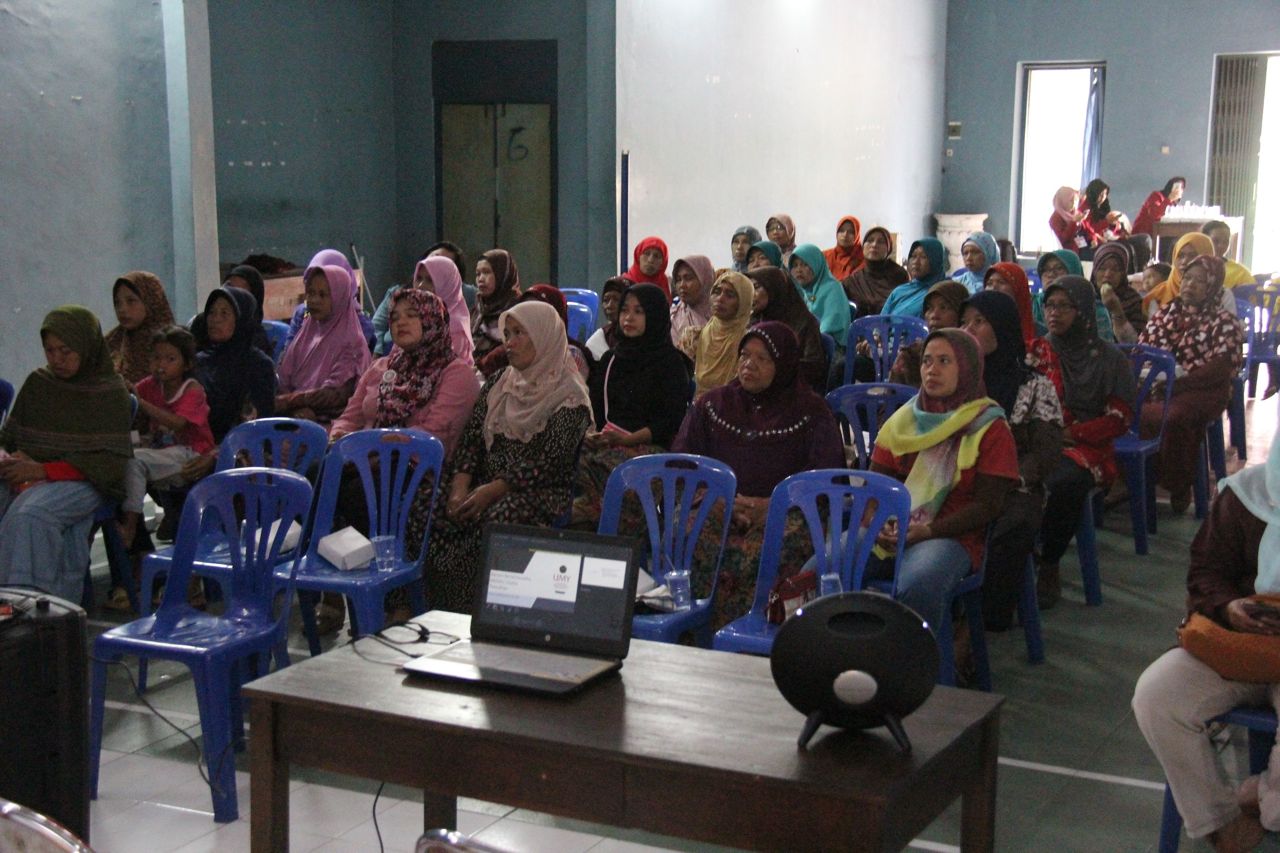 Community Service (KKN) of Universitas Muhammadiyah Yogyakarta (UMY) held a counseling activity called 'Brave to Do Entrepreneurship through Home Business' on Thursday (8/2) in Tijayan village, Manisrenggo, Klaten, Central Java. The majority of people living there as farmers are given counseling to increase the economic level of local people.
"People of Tijayan are farmers. Not only rice but also chili is a cultivated plant by the community, but unfortunately they only sell it directly to middlemen, so it cannot increase economic level of the community to fulfil their living needs," explained Reza Surya Jaya, Head of KKN Group in Tijayan Village.
Jaya also said that a small number of people there already have their own business. However, the business can not be well-developed and remain in the same condition. In addition, most of teenagers in the village are not motivated to continue their education to a higher level. "They prefer to be a worker and leave their dreams rather than pursuing their education to improve knowledge that can actually affect to their economies," he added.
By conducting such activities, Jaya and his team hope that the entrepreneurial willingness and soul of people in Tjayan can grow. "After growing entrepreneurial self-belonging, we will provide training to make processing products from natural resources in this village, especially the target is chili," Jaya told.
In the event attended by the members of Family Welfare Movement (PKK), M. Miftahun Nadzir, also a lecturer of Faculty of Economics and Business (FEB) in UMY explained about the various benefits of being an entrepreneur at this era. He said that being an entrepreneur is flexible, free from rules, and useful for community in neighborhood. "Actually creative ideas have started to grow from the community to make products from existing natural resources. However, they are too afraid to try since they can't guarantee it yet. Therefore, this is the main obstacle, "he said.
Miftahun also claimed that people also need to learn about technology today. It will be very helpful to develop a home business that is being pioneered. "Nowadays it is an online age. If people can respond toward it, it is possible that they will successfully develop their business, "he declared.
Tuti Istianingsih, a Tijayan resident, also admitted that it was quite helpful with the activity. It also expected that in the future there will be more successful entrepreneurs and help in improving the welfare of people in that village. "I hope later this  activity can be communicated more frequently and there is sustainability after this agenda because we do not really understand yet and need further guidance, "he concluded.