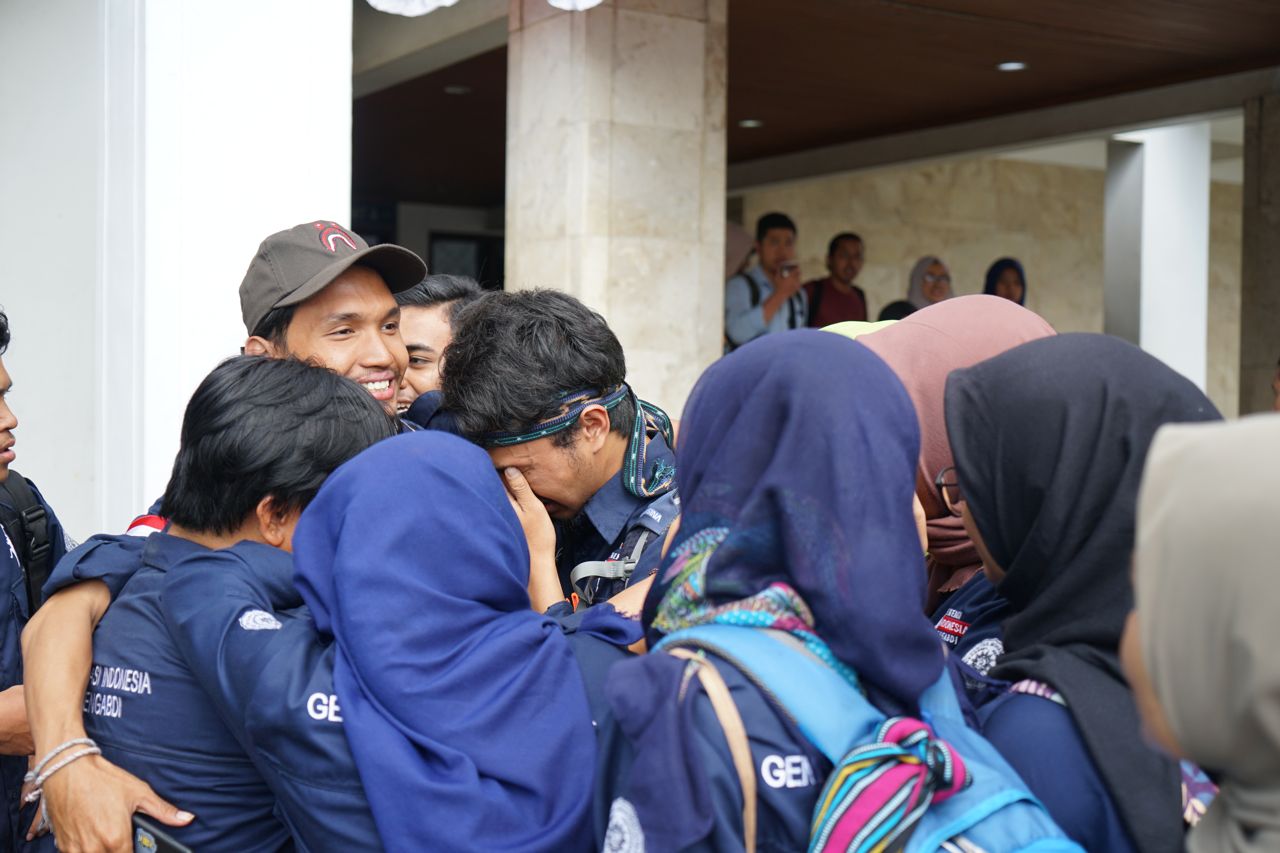 50 team members of Genesia #3 being volunteers of Lombok earthquake and two supervisors arrived at Universitas Muhammadiyah Yogyakarta (UMY) safely. They were welcomed by Rector of UMY Dr. Ir. Gunawan Budiyanto, M.P., a supervisor Ir. H. Nafi Ananda Utama, M.S., and Head of Office of Research, Publication, and Community Service (LP3M) Ir. Gatot Supangkat, M.P.
Chief of the Genesia #3 team Hairunas, well known as Anas, told that his team members commenced community service programs on 15 July, but earthquakes occurred so that they decided to stop the programs and focused on assisting earthquake victims. "Some of our community service programs had run, yet on 29 July at 6.45 a.m. an earthquake happened and all people as well as our teams panicked. It was the first earthquake on that day. We immediately changed our programs and became volunteers to help people in Lombok," said Anas in an interview on Thursday (14/8).
Besides, the teams sought to provide aids in fields of health logistics, disaster shelters, and being facilitators. Anas was proud of his team members. "When being volunteers, I saw that all teams members no longer thought about a mark for the community service subject but they did it for the sake of humanity," emphasized Anas.
However, UMY decided to require the team to accomplish their community service. Duration of their community service became shorter than it was supposed to be, two months turning into one month. UMY parties thought that the team was not prepared for coping with disasters. The team was also victims; indeed, some of them got trauma. Even though Anas and his team returned to Yogyakarta, they would remain helping Lombok earthquake victims. "We are sad to leave the people in that condition. Some of us would like to back to Lombok to comply with our responsibility and promises for people of Lombok. We hope that the people can be independent because we told them how to manage logistics and health," expressed Anas.
Meanwhile, Rector of UMY Dr. Gunawan Budiyanto considered to send several team members of Genesia #3 together with a recovery team to go to Lombok. "Nevertheless, we have to ensure that the condition in Lombok is safe. We have arranged everything including secure buildings and base camps, and afterwards our disaster management team will take actions. We also wish that this incident can be an evaluation for the next Genesia teams so that we can recommend them what Genesia #4 team has to do after the disaster," declared Gunawan.
UMY's decision to require Genesia #3 team to finish the community service was based on reports from Genesia #1 and #2 teams having performed community service in Lombok. A supervisor of Genesia #3 team Ir. Nafi Ananda Utama, M.S. agreed on the decision. "I think that it is a right decision. Physical condition of the Genesia #3 team members are good, but some of them have trauma. Their community service is done and their grade will be based on reports before and after the disasters," asserted Nafi who is also Secretary of UMY.