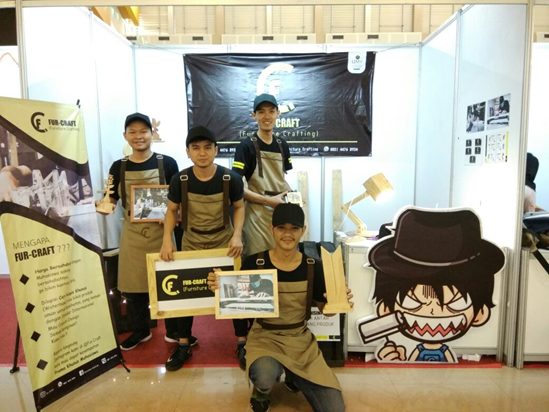 Demands for wooden household appliances such as wardrobes, chairs, and other are increasing. The high demands lead to the growing of the wood waste. Noticing the fact, students of Universitas Muhammadiyah Yogyakarta (UMY) participating in Program Kreativtas Mahasiswa (PKM) recycled the wood waste to be 'Furniture Crafting (FUR-CRAFT)'.
The team led by Muhammad Nabil Dhiyaulhaq, a student of Department of Mechanical Engineering of UMY, comprised of four members namely Gita Somantri of Department of Management, Yudani Alamsyah H. from Department of Agribusiness, Muhammad Abdul Aziz from Department of Agrotechnology, and Fachri Ramadhan from Department of Mechanical Engineering, and was supervised by Novi Caroko, S.T., M.Eng.
Nabil stated that the FUR-CRAFT possess more strengths than those of other products. "The main material of the FUR-CRAFT is teak wood. It aims to enhance sale value of the abundant teak wood waste in harbors. We utilize environmentally friendly materials so that they are safer, while other products commonly use dangerously chemical materials," explained Nabil in an interview at Graduate School of UMY on Monday (10/7).
Due to the creative idea, Nabil and his team were granted funds by Ministry of Research, Technology and Higher Education (Kemeristekdikti) and passed to national PKM.
To continue the program, FUR-CRAFT team collaborated with several furniture stores in Kasongan. The team sold their products though ecommerce and at FUR-CRAFT gallery at Perum Puspa Indah Blok G5 Bangunjiwo, Kasihan, Bantul. "The utilization of the wood waste is expected to enhance people's and students' creativity to begin being entrepreneurs," wished Nabil.