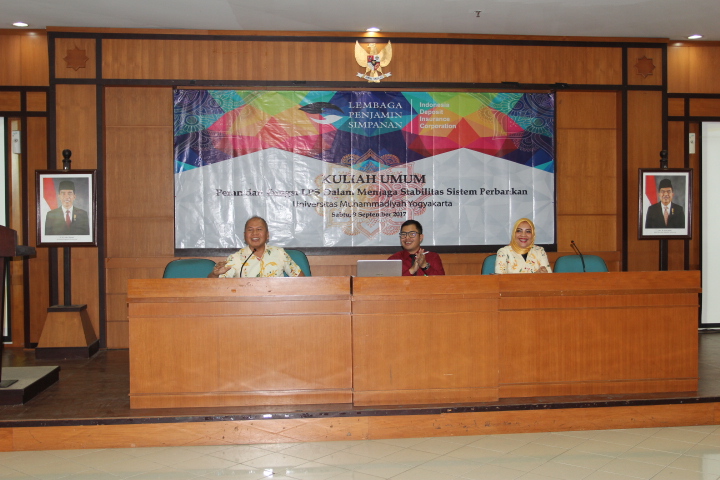 Departments of Economics (IE) of Faculty of Economics and Business (FEB) of Universitas Muhammadiyah Yogyakarta (UMY) conducted a public lecture on "the Roles and Functions of LPS in Maintaining Stability of Banking System" on Saturday (9/9) at A.R. Fachrudin B Building, Floor 5, UMY. The public lecture presented the Director of the Deposit Insurance Corporation (LPS) Sumaryo as the speaker. It was also attended by head, lecturers, and students of Department of Economics.
Sumaryo explained about the profile, history, and functions of LPS in a financial stability system. The LPS as one of the four financial insurance corporations possesses two functions. "According to Law No. 24/2004, the first function is as a deposit guarantor of bank customers, and the second one is to provide solutions when a bank confronts problems. If a systemic bank faces a problem, Financial Services Authority (OJK) requires LPS to check and analyze the problem," he said.
Sumaryo maintained that LPS intensively promotes the banking system to community including students. "It aims to enhance public understanding of why a bank is closed. People who have not known the information yet, they gain it rapidly and precisely," he stated.
Sumaryo also advised all students to check a bank in where they will save their money with 3T slogan. "The slogan is Tercatat dalam pembukuan bank (recorded on a passbook), Tingkat bunga simpanan tidak melebihi tingkat bunga penjamin (saving interest whose rate does not exceed the guarantee interest rate), and Tidak melakukan tindakan yang merugikan bank (not doing activities harming the bank)," he mentioned.
Meanwhile, another speaker Widya from LPS presented PPSK (Prevention and Handling of Financial System Crisis). Widya conveyed that PPSK serves to regulate the coordination among four financial guarantor institution so that the duties are more obvious. "Regarding the PPSK, the LPS functions to formulae and establish a deposit guarantee policy, to guarantee deposits, to formulate and establish policies for the banking system stability, and to make and carry out policies on failed bank solutions," she asserted.