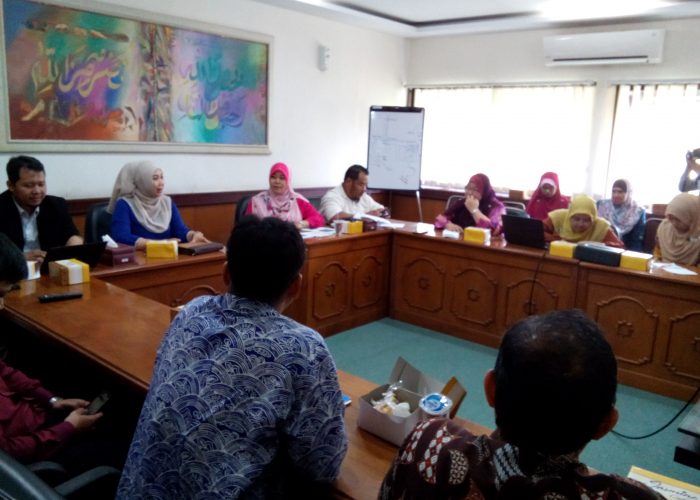 Human Resource Officer (BSM) of Universiti Sains Islam Malaysia (USIM) visited Universitas Muhammadiyah Yogyakarta (UMY) on Saturday ((14/5). The party of USIM was led by Puan Monaliza and they were welcomed by Dra. Rini Juni Astuti, M.Si. (Head of Human Resource Officer), Gendroyono, S.Pd., M.Pd. (Dean of Language Education Faculty), Talqis Nurdianto, Lc., M.A. (Head of Arabic Language Education), and Idham Badruzzaman (a representative of Cooperation Officer).
Puan stated that BSM of USIM would like to cooperate with BSDM of UMY. Indeed, USIM and UMY has been cooperating in academic field so that it will be easier for BSM of USIM to cooperate with UMY in other fields. "I wish that this visit can create new cooperation in non-academic field," she expected.
Puan Monaliza mentioned that UMY proposed cooperation such as staff exchange, softskill training, international symposium, and joint program for the lecturers to deepen curriculum both universities. "USIM possesses 12 thousand students and the staffs are 1,541 people. To foster their skills and soft skills, I hope that USIM could cooperate with UMY so that the staffs can share ideas and develop their administrative skills. This is the cooperation that we would like to propose to UMY," she inserted.
Head of BSDM of UMY welcomed the objective of BSM of USIM to cooperate with UMY. Dra. Rini told that her party has already had a plan to perform staff exchange to other countries. "We will undertake it in the next academic year (2016/2017). 50 employees of UMY will go to Malaysia. The field trip aims at increasing the staffs' skills and broadening their knowledge of another country. As the tagline of UMY, Muda Mendunia, UMY and the eagerness to be World Class University, BSDM will conduct the staff exchange," Rini conveyed.
BSDM of UMY has been organizing a program to train and evolve the staffs' soft skills each month. "BSDM of UMY will also coin a program for UMY's staffs to continue their study. The employees, non-lecturers, are encouraged to pursue their study at least undergraduate program," she said.