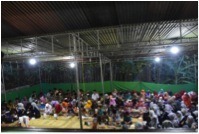 Dentistry Student Association (HIMAKAGI) of Universitas Muhammadiyah Yogyakarta (UMY) and four lecturers of Department of Dentistry of UMY have successfully conducted a community service and counseling (PMP) on May 2019 at Pedul, Agrirejo, Bantul. The pmp PROGRAM was performed in two months and consisted of several activities, namely WHO hand-washing activity, Arabic class, counseling on oral and dental health, English class, Islamic competitions, and breaking of the fast.
The PMP program was conducted every two weeks. Led by Dr. drg. Erlina Sih Mahanani, M.Kes, the teams comprises of two other members, namely drg. Likky Tiara Alphianti, MDSc., Sp.KGA and drg. Widyaparmana Dwi Atmaja, MDSc. Besides, the team also collaborated with HIMAKAGI of UMY and Office of Research, Publication, and Community Service (LP3M) of UMY. The community service aims to bring awareness to people that it is important to maintain a healthy lifestyle, especially dental and oral health.
A student of Department of Dentistry of UMY who is also head of coordinator of HIMAKAGI, Nadya Rianda Zahra stated that the PMP program is an annual work program of HIMAKAGI. For this year, the PMP program focuses on students of TPA Al-Asher, Pendul, Agrorejo, Sedayu, Bantul. She declared, "We conducted counseling on oral and dental health to the students of TPA Al-Asher. There were 50 students participated in the program. To the students, we disseminate information related to oral components, cavities, and proper teeth-brushings. After that, we divided the students into several groups. Each group is assisted by two mentors to direct them brushing their teeth. Subsequently, we also held a selection for young dentist candidates as representatives of the TPA Al-Asher."
Moreover, Nadya uttered that the participants seemed enthusiastic with the program. "At the end, we allotted snacks and held a photo session. We also initiated an evaluation to find out how far benefits children and students could obtain from the program. The evaluation is also worthwhile for the committees because this can be a benchmark to conduct next community services. Furthermore, through the PMP program, hopefully people of Pendul can maintain their stability, especially ones that related to maintenance of oral and dental health.
On Monday (20/5), the team held a peak event, marked by several activities, namely competitions, memento allotment and breaking the fast together. The competitions comprise of Adzan competition, Juz-Ama memorization, coloring competition, and young dentist competition.