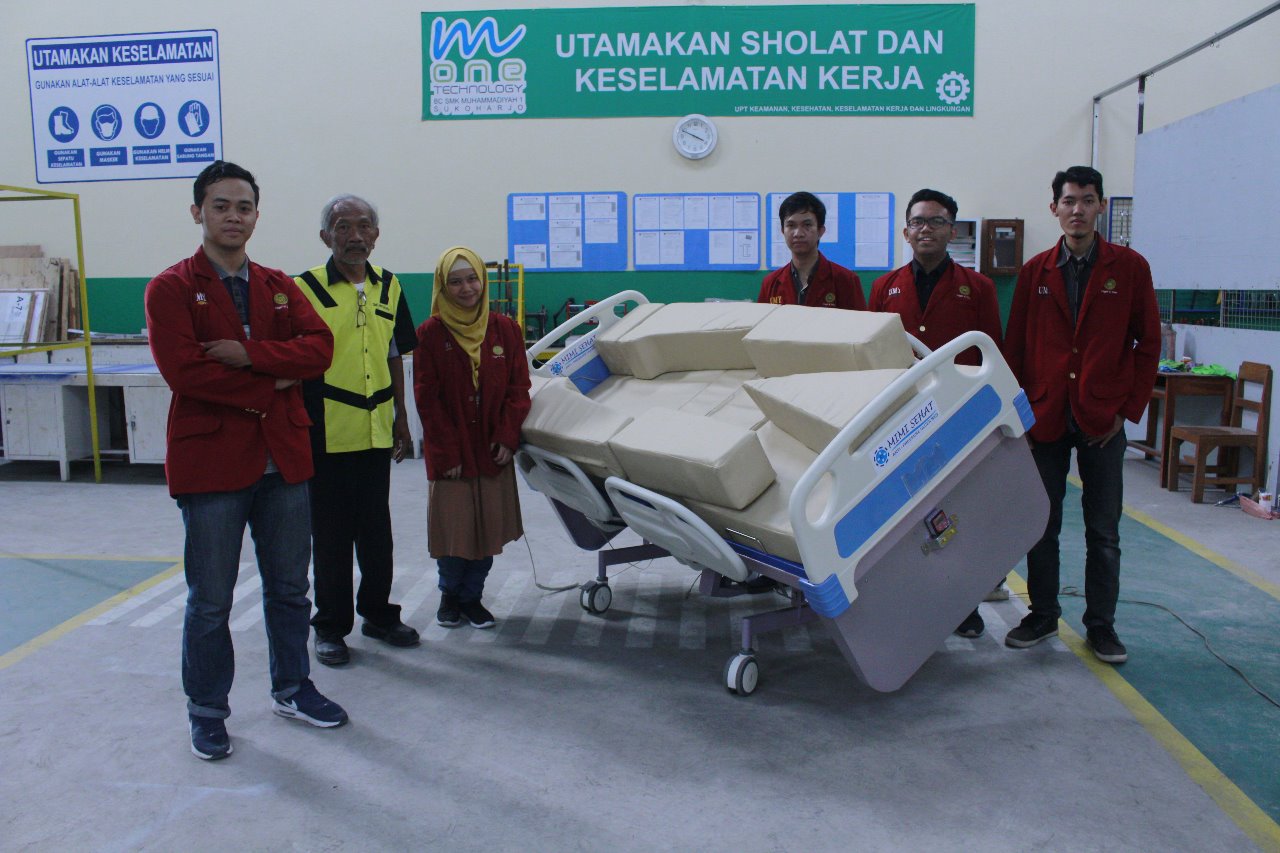 Issues of a pressure ulcer in Indonesia reach 33.3 percent, while other ASEAN countries were only 2.1 to 3.3 percent. The pressure ulcer commonly occurs because there is pressure or friction between skin and a bed for long time, and the skin eventually will look red. To overcome the condition, Indonesian nurses put patients on an anti-decubitus bed manually every two or four hours at evening.
Noticing the fact, students of Universitas Muhammadiyah Yogyakarta (UMY) associated in a team of Program Kreativitas Mahasiswa Penerapan Teknologi (PKM-T) innovated a bed for the patients called MIMI SEHAT (Miring-Miring Sehat, Bed Pintar untuk Tindakan Pencegahan Terjadinya Pressure Ulcer di Perawatan Rumah Sakit). "The MIMI SEHAT is an automatic anti-pressure ulcer bed so that the bed can automatically change sleep positions (side positions) as determined durations. The bed control can be carried out through an application which can be installed on a smartphone so that it eases both patients and nurses," explained Suharli, a student of Department of Mechanical Engineering of batch 2016 as well as the team chief.
The MIMI SEHAT utilizes a microcontroller system managed by an android application with a liner actuator to give thrust to move the bed automatically. "We are developing the technology to be applied in the hospital beds and homecare beds," told Suharli. The MIMI SEHAT is expected to be an innovative health bed which can regularly and significantly alleviate the number of pressure ulcer issues. "We also hope that hospitals in Indonesia can possess MIMI SEHAT because it costs more inexpensively than other anti-pressure ulcer beds," wished Suharli,
Additionally, Suharli and his team collaborated with M-One Technology, SMK Muhammadiyah 1 Sukoharjo to design the bed which will be marketed soon. The bed design was expected to solve issues of the partner, particularly in design, price, and quality that the partner had previously made anti-pressure ulcer with cheap budget but less quality to compete with other products. In coining the bed, Suharli worked with four other students namely Muhammad Nabil Dhiyaulhaq D. (a mechanical engineering student of batch 2015), Faiz Evan Saputra (a mechanical engineering student of batch 2015), Indah Septianing Tias (a nursing student of batch 2015), and Ari Wahyudi Putra (a nursing student of batch 2015) and was supervised by Ir. Aris Widyo Nugroho, M.T., Ph.D.