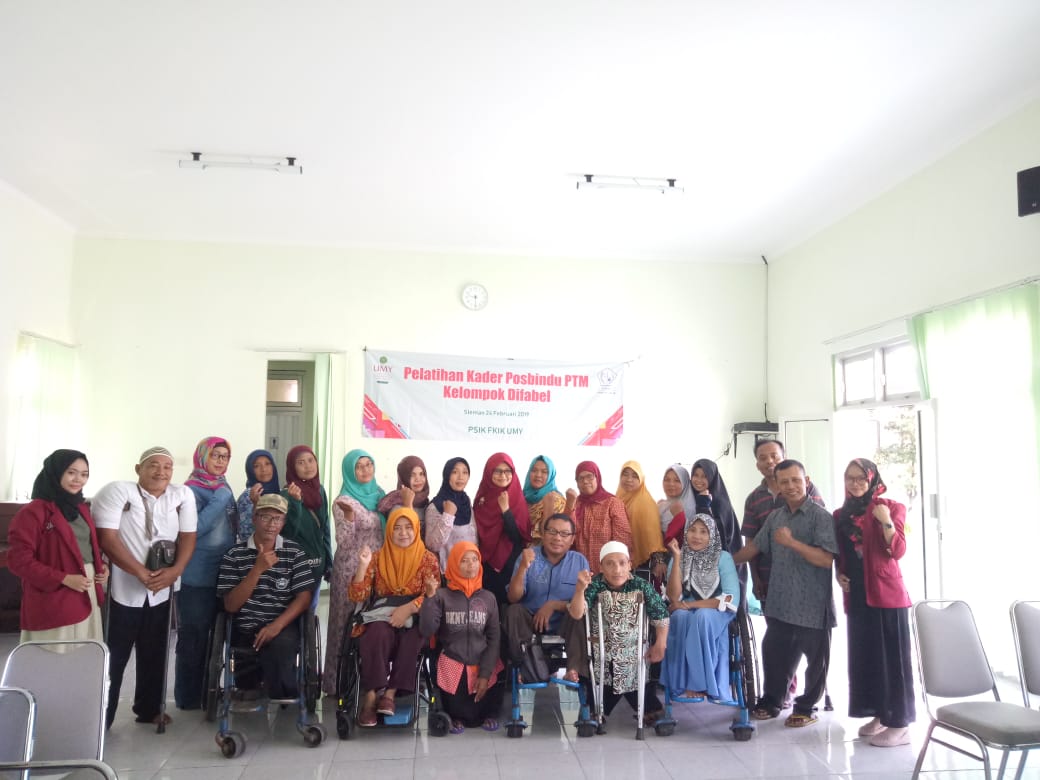 Many people with disabilities in Indonesia are yet to obtain hospitable and adequate facilities. To overcome the problem, government even released a regulation for people with disabilities, known as Law No. 8/2016. The law regulates fulfillment of rights for people with disabilities which includes economic, political, social, and cultural rights. Departing from the issue, Nurul Hidayah, S.Kep., NS., M.Nurs, a lecturer of Department of Nursing of Universitas Muhammadiyah Yogyakarta (UMY), showed a concern by conducting community service for people with disabilities. She initiated a Posbindu PTM (an Integrated Health Counseling Post for Not-Contagious Diseases) on Sunday (24/2) at District Office Hall of Nglalik, Sleman, Daerah Istimewa Yoyakarta.
Nurul stated, "This program is affiliated with Pemnas (National Community Service). I propose Posbindu PTM for people with disabilities. Actually, the Posbindu PTM is almost the same as Posyandu (Integrated Health Post) for toddlers, babies, and elderly, but the Posbindu PTM inclines on prevention for not-contagious diseases. This one is also focused for people with disabilities. There were over 21 people attending the program, aged fifteen to sixty years old. The Posbindu PTM is based on a non-governmental movement, and we have UMY as the funder. We contribute by preparing medical equipment such as tension meter and others. In performing the program, I was accompanied by students who have been provided with PTM materials, from bachelor degree to professional program."
Nurul added, "Alhamdullilah, many people came to the Posbindu PTM, starting from deaf people, physically abused people, to people affected by polio. We parted five tables for medical check-ups, namely registration desk, interview table related to not-contagious disease risk factors and profile of diseases, weight weighing and height and tension measurement table, table for blood sugar, cholesterol, and uric acid check-up, and medical consultation table."
In addition, the disabled people were also trained for a regeneration program. This was purposed to prepare them to be independent in managing their own health, especially for the PTM cases. "I contribute to the regeneration program. I hope that the Posbindu PTM can organize individually, with a little assistance from Puskesmas (Community Health Center)," ended Nurul.